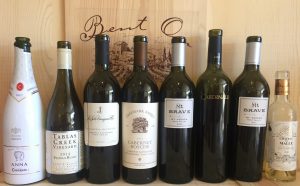 This was the lineup Saturday for our annual Entrepreneur Circle Pickup Party in order of consumption, working left to right. To save us all some potential embarrassment, we've only displayed one of each bottle as opposed to the entire recycling collection!
Thank you to all the members that were able to attend and taste the wines in the September shipment.  For those that aren't members, the September shipment was bottle #2 and #4, again working from the left.  You can read about them here: September Shipment
While everyone enjoyed the shipment selections, the favorites of the night were some of Chris Carpenters (winemaker) best work.  The 2013 La Jota was very approachable, smooth and dare I say fruit forward. Had we voted, the La Jota was probably the crowd favorite. Then was the flagship Cardinale, again a 2013. It was a little tighter and more tannic but even at this young age, you can get a glimpse of what's in store in a few years for this top billing Napa Cabernet.
The surprise of the night and not officially in the lineup, but due to some late members that missed some of the earlier wines, we opened some 2011 Mt. Brave, also a Chris Carpenter wine from Howell Mountain.  The 2011 outshined both the 2013 La Jota and the 2012 Mt. Brave.  The tannins were well integrated and deep dark fruit flavors that show no signs of ripening problems.  2011 was a difficult vintage in Napa and the weather made it tough to get the berries ripe, but the fruit high up on Howell Mountain is grown above the fog line and they didn't experience the same challenges that some of the valley fruit suffered. We are happy that we stocked up on this gem and 5 years in, it's drinking nicely.
A quick shout out to the fine catering from Christina who served some excellent varietal appropriate paired appetizers like Marinated Shrimp with Lime Dressing in a Pastry cup and Smoked Tri-tip with a Horseradish Aioli.  Finished with a house made Apple pie with the 2010 Sauternes shown. Lastly, none of this would have been possible without Heather Balston and the generosity of Regal Wine Company for presenting most of the selections for Saturday evening.  Thank you Heather for spending your Saturday evening with us and telling us the back story for each of the wines. Next time, we'll do it at The Rutherford Grill and get Chris's input as well!
While not all are up on our site yet, each of these wines can be purchased from Bent On Fine Wine, including the beautiful Cava we found in Spain this last summer, Cordoniu "Anna" for an amazing $15.99.
If you'd like to attend next year, simply sign up here: Entrepreneur Circle