ROSEMARY CAKEBREAD OCTOBER 2016
TRADE TASTING @ REPUBLIQUE – LOS ANGELES
Recently I attended a trade tasting of many different wines, most of which were introducing their 2013 red wines, which is quite typical in, early Fall. The harvest is done and the winemakers and owners have more time to market their wine.  The stand out for me at this tasting was the 2013 Gallica Cabernet Sauvignon Napa Valley. Yes, the wine was outstanding (albeit young for my personal consumption taste), but it was the opportunity to meet and discuss the wine with Proprietess Rosemary Cakebread that put it over the top.
Rosemary is a petite lady and has enough self assurance to refrain from coloring her straight, medium length, perfectly coiffed gray hair. Most will recognize the Cakebread name and it is no coincidence, she is married to Bruce Cakebread the current President and son of Cakebread Cellars founder, Jack Cakebread. But Rosemary is one of the great women winemakers in Napa Valley and her first name deserves as much recognition as her last. Rosemary has been making wine in the Napa Valley for over 35 years and held positions at several wineries including the original Inglenook, Mumm and most notably she was the winemaker and consulting winemaker for Spottswoode for over 15 years.
She started her own label with the 2007 vintage of Gallica and has been making great Cabernet under that label ever since. She flew down to LA just for this tasting (that wasn't abundantly attended) and personally spent time with anyone that wanted her attention or insight. Rosemary was kind enough to autograph a couple bottles for my cellar.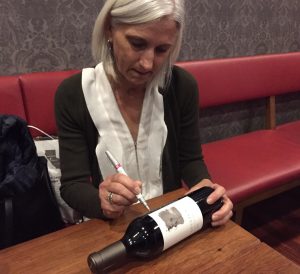 Rosemary must have spent 10 or 15 minutes with me, discussing the 2013 vintage and contrasted it with 2012, 2014 and early indication on the 2015 vintage, which Rosemary said was a bleak vintage in terms of production volume. She added a Syrah to her portfolio in 2012 which I had not tasted either, but did try the 2013, which was also a beautiful wine. A big full bodied Syrah, with nice roundness and rich flavors. Less peppery notes than many Syrahs. The fruit comes from a small Syrah patch in the Santa Lucia Highlands AVA. I would have no problem consuming this wine at this stage in it's development.
I'd like to tell you, I tasted the maiden vintage (2007), but I didn't find Gallica until the 2008 vintage. I've enjoyed it personally ever since and still have some '08 in the cellar. Once I officially entered the wine biz it quickly became a standard in our inventory. I'm proud to say we've carried Gallica since the 2010 vintage and now can present the 2013 for your future enjoyment. If you haven't had the opportunity to try this consistently, critically acclaimed Napa Cabernet, this is the year to treat yourself to something new and special.
2013 Gallica Cabernet Sauvignon Napa Valley.
BOFW tasting notes:
….fruit forward presence without being overly ripe or out of balance. Soft tannins that are well integrated,creating early approachability. Tremendous mouthfeel and fullness with a sleek finish.
Wine Advocate 95
"Gallica's beautiful 2013 Cabernet Sauvignon has velvety tannins, loads of plum, blackberry and cassis fruit and a floral component. It has a medium to full-bodied personality that would suggest a suave complex wine from a Bordeaux or Margaux appellation. The wine is quite beautiful with purity, richness and an overall charm that make this an endearing effort in 2013. Moreover, it should drink well for another 20+ years." – Robert Parker